===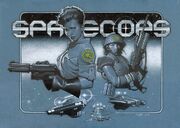 Space Cop=== First released in 1987, Space Cop is a point and click adventure game that takes place in the same universe as the Mass Effect series. It recieved warm reviews by sites such as IGN which stated 'This game will punch you in the balls and ride you like a horsebag.'
Following a theft at a local shop at the Citadel, rookie cop Bob Spacelaw proves himself at his new job. After quickly catching the thief, the player takes control of Bob. Bob then stops a series of break ins, a group of teens loitering, and his biggest case, a missing old man.
After rising through the ranks, Bob takes interest in an arson case that everyone else is ignoring. After a thorough invetigation, Bob learns that the arsonist is the chief's son, and promptly backs down, as he doesn't want to get fired.
Retail EditionsEdit
Alongside the Standard Edition, there was a Collectors Edition which came with a Game Guide, a signed box and a 1:1 scale cloth map of space. When asked for comments on why they decided on the size of the map, a unanimous 'We messed up' was reached by the developers.
Other Games In The Space Cop SeriesEdit
Space Cop 2: Space Harder
Space Cop 3: Space Boss: Lord of Space
Space Cop 4: Shadow and Colossus
Imagine Space Copz
Space Kart
Space Cop 5: Electric Boogaloo
Space Cop HD
Ad blocker interference detected!
Wikia is a free-to-use site that makes money from advertising. We have a modified experience for viewers using ad blockers

Wikia is not accessible if you've made further modifications. Remove the custom ad blocker rule(s) and the page will load as expected.